Proper maintenance can help your garage door last as long as possible. There are some simple steps that you can take to maintain your garage door tracks that can help minimize the risk of experiencing any problems over time.
Your maintenance routine should start with a visual inspection of the tracks themselves. If necessary, remove any items in your garage that may be blocking access to the tracks so that you can thoroughly inspect them. You need to make sure that the entire track on each side is clear.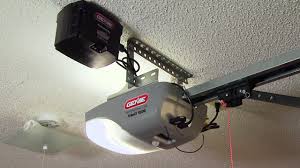 Once you have obtained access to the tracks, look carefully at them for any signs of dirt, grime, or obstructions. If you find any loose objects in the tracks themselves, remove them.
Next, use a damp washcloth to gently wipe away any dirt that may have accumulated on the tracks over time. This dirt can cause extra friction which can interfere with the operation of your garage door. You may also need to use a small brush to access any areas that are too small for your fingers to adequately reach into.
Once the tracks are clean, inspect the rollers to make sure that they are in good shape. Look for any signs of wear and tear. Additionally, make sure that they are firmly attached. If necessary, tighten any screws that may have come loose over time.
The last step in maintaining your garage door tracks is to check the alignment of the tracks. They should be perfectly in line with one another. If the alignment is off, you may want to consider hiring someone to come in and correct the problem for you. Garage doors are extremely heavy and can be difficult to work with. In the case of misaligned tracks, it may be best to leave the work to a skilled professional.